First, you would be whipped up and divided into a muffin tin by The Naturalist.
Then you would be baked until you had a crispy outside with a moist center.
Thirdly, you would be grabbed out of the hot tin and split in two so I could take a picture of your steamy goodness. I would try to do this secretly, since I already take far to many pictures as it is. But, you would hear my kids whispering in the background, "What is she doing?" "She's doing something with the muffin." "She's….she's….holding up the muffin…" "She's got the camera…" "Is she? She IS! Mom's taking a portrait of the Banana muffin!" One more reason for my kids to think I'm a little off. But whatever, how can I not take a picture of you?!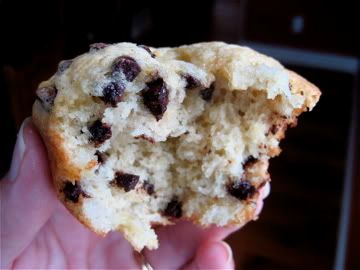 Fourthly, The Golfer would take you to the table with a side of milk. He then would gently dip you down till you were fully submerged…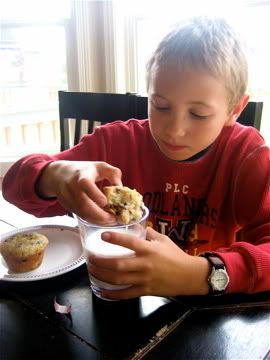 And then he would take a nibble…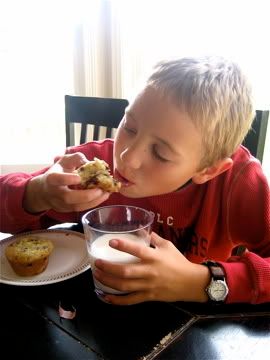 Before finally scarfing you down in one bite.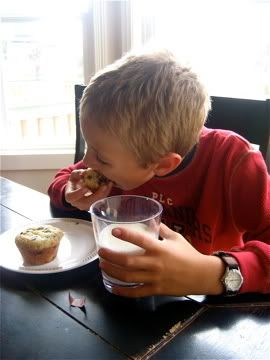 The last thing you'd hear, as you descended into a small boy's stomach, would be him saying, "Mom, you should enter in one of those cooking contests. Really, you should. You would totally win!"
You, like all the other muffins around here, would have a short life…but one full of love and glory.
________________________________
This Chocolate Chip Banana Muffin story is sponsored by Better Homes and Gardens Banana Bread recipe. I've been using this recipe for as long as I've been married–I recieved the cookbook as a wedding present…and haven't found anything better.
Banana Bread
2 cups all-purpose flour
1 1/2 tsp. baking powder
1/2 tsp. baking soda
1/4 tsp. ground cinnamon
1/8 tsp. ground nutmeg
2 beaten eggs
1 1/2 cups mashed bananas (5 medium)
1 cup sugar
1/2 cup cooking oil or melted butter or margarine
1/4 cup chopped walnuts
Grease bottom and half-inch up sides of one 9 x 5 x 3-inch or two 7 1/2 x 3 1/2 x 2-inch loaf pans; set aside. Combine flour, baking powder, baking soda, cinnamon, nutmeg and 1/4 tsp. salt. Make a well in center of flour mixture; set aside.
In a medium bowl, combine eggs, bananas, sugar, and oil. Add egg mixture all at once to flour mixture. Stir just until moistened. Fold in nuts. Spoon batter into prepared pan(s).
Bake in a 350-degree oven for 55 to 60 minutes for 3-inch-deep pan or 40 to 45 minutes for 2-inch-deep pans, or until a wooden toothpick inserted near center comes out clean. Cool in pan on a wire rack for 10 minutes. Remove from pan. Cool completely on wire rack. Wrap and store overnight before slicing.
*As with the Chocolate Orange muffins, I take this recipe and add in a couple handfulls of chocolate chips. MMMMMMmmmmmm!
Filed under: Sometimes I Cook! Tagged: | Banana Bread, cooking, Insanely good recipe, Muffins